"Accelerate Directly to the Money with These Done-for-You Commission-Creating Bonuses..."
"Make Money Easier Than Ever Before With These Sales-Boosting, Ready-Made Bonuses..."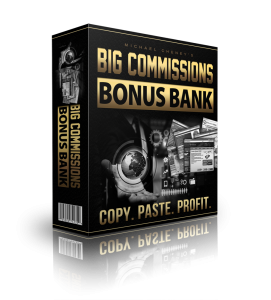 Don't believe what they tell you - size DOES matter!
I'm talking about Bonuses of course...
When it comes to affiliate marketing if you really want to stand out from the crowd and get people buying through your affiliate link rather than your competitors you're going to need a cool bonus.
The problem is creating cool bonuses takes a lot of research, experience, time and effort.
Yikes.
So I'm doing all the heavy lifting for you here by creating special Bonuses you can give away to your prospects to incentivize them to buy from you.
In fact, some of the bonuses will be so irresistible you'll make sales of the affiliate product just because your buyers want the bonus.
How cool is that?
And the upshot is - more money in your pocket and more spare time to spend it 😉
"We've Done All the Hard Work So You Don't Have To..."
Are you a busy person?
Duh, right?
Well look - if you want to get results fast the Big Commissions Bonus Bank is for you.
Here's how this works:-
This is where the real money-making magic happens because you're getting everything done for you with these ready to use Bonuses which will instantly get you more sales.
You just count your money and chill-out because I'm giving you the best bonuses I've ever created to use as your own and make money from right away.
You can relax because I've created all these bonuses, recorded the videos, paid for professional graphics and have written the descriptions and bullets for you to use and get people buying through your link rather than anyone else's.
You can put your feet up because you're getting the perfect bonuses for you to skyrocket your commissions.
Your job, you ask? Count the moolah.
"Making Commissions Has Never Been So Easy..."
"$983.47 in Less Than 72 Hours"
"We just started working with Michael... and wanted to work with a proven leader... and it made all the difference in the world.
We've never been on leaderboards for affiliate promotions but we finished #6 in the Top 10.
You have to find guys who have what you want and know what you need to know. Michael is one of those guys." - Eric Green & Ray Dietrich
"Grab This Big Commissions Bonus Bank and Accelerate Directly to the Money - Here's How..."
Done-for-you Bonuses Which Make You More Sales & More Money

You'll have buyers frantically pulling out their credit cards and buying through your affiliate link every time with these ready-made Bonuses. Forget buying crappy PLR or struggling trying to create a bonus for hours on end because Michael will create them for you. And bonuses = more sales for you.

NEW Ready-to-Earn Commission-Creating Bonus Downloads & Links

You'll make money quickly and easily because you're getting the download links to grab these bonuses and use them right away. You can add them to any of your affiliate offers by uploading them to JVZoo (we show you how) or you can just give people the access URL. Either way – you'll instantly be making more sales at lightning speed.

Quickly Grow Your Profits with these Money-Making Secrets

You get to make money rapido-style by giving these bonuses away with your affiliate promotions but you'll also quickly grow your profits when you discover the secrets inside these bonuses. I share some of my most powerful and effective money-making strategies inside each one which you can apply instantly to see immediate profit gains.

Professionally-Created Graphics and Branding Gets You More Sales, FAST

Every single bonus you're getting here comes with professionally-created graphics and branding so people will be desperate to buy whatever you promote through your link. This will truly set you apart from the competition and skyrocket your sales in a heartbeat.
30-Day No Quibble, No Questions, No Holds-Barred,
No B.S. 100% Money Back Guarantee

Look.
I know this works. And all the people who've used this also know it works.
But you might be skeptical and that's perfectly normal. I get that.
So you can come on board, apply the method and judge for yourself.
You can have this cranking today. 
But I'll go even further than that and give you 30 days to try the whole thing out.
If, for whatever reason, you want your money back just let us know before the 30 days is passed and you'll get a no quibble, no questions asked refund.
You can take The Big Commissions Bonus Bank for a test drive for 30 full days and judge for yourself here.
You really cannot lose.
But if for some absolutely bizarre reason you are the only person on the planet this doesn't work for (or you just want your money back for any reason) you can let us know and you'll get 100% of your money back.
No questions asked. No justification necessary. And no hard feelings.

YES - I Want To Accelerate Directly to the Money by Grabbing this Big Commissions Bonus Bank

YES. Please give me immediate access to the Big Commissions Bonus Bank for a low, one-time investment of just $47.

YES. I understand you'll be accelerating me directly to the money with 20 money-making bonuses I can use right away to make sales

YES. I understand I will be cashing in quickly because you're giving the instant download links for each professionally-created bonus developed by Michael Cheney himself

YES. I want to make money easier than ever before with these Ready-Made Bonuses which will instantly boost my sales

YES. I understand you have done all the hard work so I don't have to - I just copy and paste these Done-for-you Bonuses to generate sales.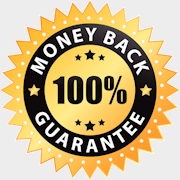 There is no risk whatsoever and I should grab the Big Commissions Bonus Bank RIGHT NOW for just $47.
I have a FULL 30 Days Money Back Guarantee, and nobody is allowed to ask me anything or try to pitch me something else if I decide to ask for my money back.

Very Limited Time Offer
Get Access Now: